Vea was established in 1992 as company for the integration of machine vision systems in the industrial environmentwith the aim of providing its customers with particularly efficient installations with a after-sales service adequate. VEA solutions bring industrial quality control directly on the production linesmainly with two types of modules: the CheckBox and the vision systems. In the first case it is a machine containing at least two conveyor belts, an industrial camera system and a robot arm that picks up the incoming parts, analyzes them and selects them. In the second case, however, the cameras are placed on the production line following an tailor-made project developed by VEA for the customer, implementing them with measuring instruments. Cameras, robots, optical micrometers and illuminators can be purchased separately and this makes our integrated vision systems of scalable systems.
At the heart of our vision system solutions are VEA optical micrometers, with better than micron accuracy and extremely high thermal compensation capabilities. The measurements offered by VEA have the laboratory precisioneven though they are made directly on the production line.
The experience of more than a decade of activity and several hundreds of systems installed in the main productive sectors (automotive, food, lithographic, typographic, textile, packaging, mechanical, hydraulic, pharmaceutical, electronic, electromechanical) make Vea the ideal partner for a quality choice in the field of machine vision.
FIELDS OF ACTION OF VEA PRODUCTS
Artificial intelligence for vision systems

Integrated vision systems
It is important to stress that VEA does not simply sell products: each installation will be followed by specialized technicians and made available to operators trained by us to use the reference interfaces. The functions of each individual instrument and control panels will be explained and made as simple as possible in the user experience. ECA follows design and installation. VEA is available for information consulting and will guide companies who choose it to the best that machine vision technology can allow.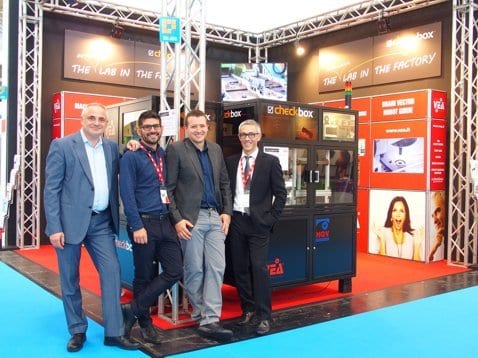 We offer quality control management consulting in the manufacturing sector with the aim of optimizing the processes and Increasingly improve the productivity of companies.
We offer specialized technical support and 360° integrated IT solutions through feasibility studies and consultancy. Vea srl was the first Italian machine vision company to be certified ISO9001: 2000, and has also repeatedly paved the way in the sector towards technological innovations.
Founding of VEA

Visione E Automazione (VEA) was founded in 1992 with the aim of manufacturing artificial vision and automation systems.

HQV (High Quality Vision) machine vision systems are the first in the world to integrate a PC, PLC, HMI (configurable operator panel) and axis controller. All configurable in a simple and immediate way by the user.

Start the activity of design and production of robotic machinery with integrated vision systems 

The experimentation of new neural logics applied in the field of artificial vision has produced in 2000 the first Integrated Vision System

Visione E Automazione becomes VEA S.R.L.

VEA is the first machine vision company in Italy to receive the UNI EN ISO 9001 quality certification for design, production, sales and service of vision systems.

The VEDO line of machine vision products was launched in 2004. Powerful, convenient and easy to use.

VEA develops the first hybrid logic of artificial intelligence.

Hybrid artificial intelligence logic is used in the new HQV-PPM (High Quality Vision -Part for Million) line of machine vision products to achieve high levels of reliability.

The IVIS (Intelligent Vision System) vision system was born in 2011. A very powerful engine that transforms the vision system into a real unit for quality control and measurement. 

VEA starts working with the Arelab research centre.

VEA starts the Intelligent Forging (Ifo) project that controls an entire forging process using computer vision and artificial intelligence logic.

VEA starts the production of CheckBox machines for quality control and measurement, completely based on Ivis vision system.

VEA develops the MSA (Micro Stabilized Accuracy) algorithm for high precision measurement which is the first in the world to calculate measurement repeatability in real time.

This revolutionary technology allows VEA instruments to provide not only the measurement, but also the measurability of the object. In fact, the object may not be measurable due to dirt, vibration or other reasons.

It is better to know that an object is not measurable than to have an incorrect data.

DAF (Dirty Advanced Filter) and XVR (Extended Virtual Resolution) algorithms increase the accuracy of vision measurements.

VEA starts the CheckBox series "Laboratory In The Factory", the high speed measuring machine for the factory.
The production of optical micrometers begins.

The LTC (Laboratory Thermal Compensation) system is born, which allows to measure in production objects with temperatures between 10° and 60° with the same precision obtainable in the laboratory (20° ± 1°).

Development of a new set of algorithms for Machine Learning for automatic defect detection.

New FDC-LED (Full Dissipated Chip) technology and graphene support for the HCL-LEC-C series of illiuminators.

The XVR2 (Extended Virtual Resolution 2) algorithm using deep learning logic allows VEA micrometers to achieve accuracies of 0.4 μm and repeatability of 0.05 μm.

New proprietary technology Regulated Machine Learning which combines the logic of Deep Learning to hybrid supervision logics. This solution allows to use the advantages of Deep Learning abstraction without losing reliability by avoiding long and expensive learning sessions.

Distribution of machine vision equipment

Logistics management and distribution service for equipment for machine vision systems: cameras, illuminators, optics and accessories for machine vision.

Opening of new production plant

New production facility in Parabiago of 600 square metres with automated robot warehouses for the production and logistics of machine vision equipment.
Design, installation, training.
Our products are only part of the solutions we offer.
Disclosure requirements for public disbursements: State aid and de minimis aid received by our company are contained in the National Register of State Aid referred to in Article 52 of Law 234/2012" and can be consulted at the following link, by entering the FISCAL CODE 13478090155 https://www.rna.gov.it/RegistroNazionaleTrasparenza/faces/pages/TrasparenzaAiuto.jspx as a search key in the field.
| | | | |
| --- | --- | --- | --- |
| Internal Revenue Service | 9.375,00 | 09/04/2021 | COVID-19 Non-repayable grant, Art. 1 Decree-Law 41/2021 |
| Internal Revenue Service | 9.375,00 | 24/06/2021 | COVID-19 Non-repayable grant, Art. 1 Decree-Law 41/2021 |
| Internal Revenue Service | 30.302,00 | 28/12/2021 | COVID-19 Non-repayable grant, Art. 1 Decree-Law 41/2021 |