Illuminators - 1
Technology and modularity
Illuminators - 2
Designed by those who have been installing vision systems for over 25 years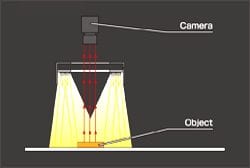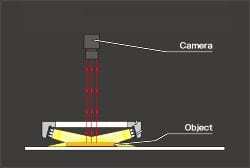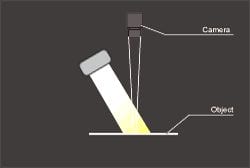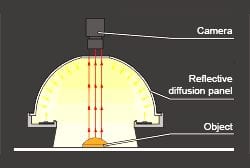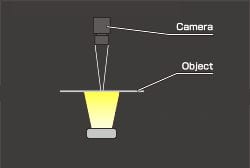 ILLUMINATORS FOR MACHINE VISION
Modularity, functionality and technology have always been a prerogative of VEA illuminators.
VEA illuminators are designed and manufactured with the experience of those who have been integrating vision systems for more than 25 years.
We know the problems of lighting in vision very well and we know the advantages of an appropriate and functional illuminator.
The LEF-C illuminators are ideal for robot guidance applications, have already included a camera mount and thanks to the slotted profiles can be easily connected to any support.
The use of selected and undersized LEDs allows you to obtain durations of more than 10 years without suffering decreases in brightness.
The LEC-C series, thanks to its modularity, has allowed to solve many vision problems, on vision sensors, smart-cameras and vision systems.
This series uses the latest materials and technologies.
The use of graphene improves the thermal conduction of the illuminators making them light and compliant with current ISO directives for industrial installations.
FDC-LED (Full Dissipated Chip LED) technology allows high brightness, low power consumption and low temperature.
The electronics included in the structure of the illuminator allow to keep the brightness constant even with strong variations of the input voltage.
The EL series uses electroluminescence technology that allows flexible illuminators to be produced in just 0.3 mm thickness.
On request we design and manufacture custom-made illuminators.
Typology:
multi-angle lighting
direct lighting
coaxial lighting
Circular low angle
dome
concentric lighting
lightweight for robot wrist vision
integrated stabilisation electronics
large combination capacity designed to solve complex lighting problems
Typology:
direct diffused lighting
coaxial lighting
robot guide
Typology:
electroluminescent foils
backlighting
diffused lighting
special lighting
Advantages:
extremely modular
dozens of combinations
cheap
thickness only 12.5 mm
homogeneous bundle
no external bracket
supports for cameras and vision sensors
light
standard industrial connector M8
Supporting technology:
graphene polymer with controlled heat dissipation
Light transmission technology:
Power supply:
integrated high frequency switching electronics
12V to 24V DC
Compliance with directives:
EN 62471:2008 (photo biological risk)
ISO 13732-1:2009 (Machinery Directive on operator thermal risk)
ISO 15066:2016 ( collaborative robots)
Advantages:
bulky
integrated camera support
connections on aluminium profile groove
standard industrial connector M12
Supporting technology:
graphene polymer with controlled heat dissipation
Light transmission technology:
high diffusion multilayer polymer
Power supply:
24V DC direct
external current-controlled power supply (optional)
Compliance with directives:
EN 62471:2008 (photo biological risk)
ISO 13732-1:2009 (Machinery Directive on operator thermal risk)
Advantages:
thickness 0,3 mm
deformable
cut out
Light transmission technology:
Power supply:
6 - 24V DC via external power supply
Compliance with directives:
EN 62471:2008 (photo biological risk)
ISO 13732-1:2009 (Machinery Directive on operator thermal risk)
Advantages:
extremely modular
dozens of combinations
cheap
thickness only 12.5 mm
homogeneous bundle
no external bracket
supports for cameras and vision sensors
light
standard industrial connector M8
&nbsp
bulky
integrated camera support
connections on aluminium profile groove
standard industrial connector M12
&nbsp
thickness 0,3 mm
deformable
cut out
Supporting technology:
graphene polymer with controlled heat dissipation
&nbsp
graphene polymer with controlled heat dissipation
Light transmission technology:
&nbsp
high diffusion multilayer polymer
Power supply:
integrated high frequency switching electronics
12V to 24V DC
&nbsp
24V DC direct
external current-controlled power supply (optional)
&nbsp
6 - 24V DC via external power supply
Compliance with directives:
EN 62471:2008 (photo biological risk)
ISO 13732-1:2009 (Machinery Directive on operator thermal risk)
ISO 15066:2016 ( collaborative robots)
&nbsp
EN 62471:2008 (photo biological risk)
ISO 13732-1:2009 (Machinery Directive on operator thermal risk)
&nbsp
EN 62471:2008 (photo biological risk)
ISO 13732-1:2009 (Machinery Directive on operator thermal risk)
Typology:
direct lighting
spot lighting
grazing light
Typology:
backlighting
indirect diffused lighting
Typology:
backlighting for metrology
spot lighting for metrology
Advantages:
from 6 to 200 cm
more than 200 models
4 types of light beams
very high brightness
10000 LUX at 20 cm
Light transmission technology:
monomer focusing lens made of diglycol allyl carbonate monomer
PC speaker
Power supply:
integrated high frequency switching electronics
12V to 24V DC
Compliance with directives:
EN 62471:2008 (photo biological risk)
ISO 13732-1:2009 (Machinery Directive thermal operator risk) excluding LEL-A
Advantages:
bulky
connections on aluminium profile groove
standard industrial connector M12
Light transmission technology:
high diffusion multilayer polymer
Power supply:
24V DC direct
external current-controlled power supply (optional)
Compliance with directives:
EN 62471:2008 (photo biological risk)
ISO 13732-1:2009 (Machinery Directive on operator thermal risk)
Advantages:
cheap
connections on aluminium profile groove
Supporting technology:
aluminium
graphene polymer with controlled heat dissipation
Light transmission technology:
optical glass lenses
PMMA fresnel lenses
Power supply:
integrated high frequency switching electronics
12V to 24V DC
Compliance with directives:
EN 62471:2008 (photo biological risk)
ISO 13732-1:2009 (Machinery Directive on operator thermal risk)
Advantages:
from 6 to 200 cm
more than 200 models
4 types of light beams
very high brightness
10000 LUX at 20 cm
bulky
connections on aluminium profile groove
standard industrial connector M12
cheap
connections on aluminium profile groove
&nbsp
aluminium
graphene polymer with controlled heat dissipation
Light transmission technology:
monomer focusing lens made of diglycol allyl carbonate monomer
PC speaker
&nbsp
high diffusion multilayer polymer
&nbsp
optical glass lenses
PMMA fresnel lenses
Power supply:
integrated high frequency switching electronics
12V to 24V DC
&nbsp
24V DC direct
external current-controlled power supply (optional)
&nbsp
integrated high frequency switching electronics
12V to 24V DC
Compliance with directives:
EN 62471:2008 (photo biological risk)
ISO 13732-1:2009 (Machinery Directive thermal operator risk) excluding LEL-A
&nbsp
EN 62471:2008 (photo biological risk)
ISO 13732-1:2009 (Machinery Directive on operator thermal risk)
&nbsp
EN 62471:2008 (photo biological risk)
ISO 13732-1:2009 (Machinery Directive on operator thermal risk)
Typology:
metrology coded markers for wide spaces
Typology:
backlighting
indirect lighting
spot lighting
Typology:
direct lighting
coaxial lighting
Advantages:
more than 500 combinations
recognizable over 200 m
 monochromatic light
very high brightness
Lighting technology:
9 High Power LED
monochrome 460 nm
Supporting technology:
aluminium
graphene polymer with controlled heat dissipation
Light transmission technology:
di-glycol allyl carbonate monomer focusing lenses
Power supply:
external controlled-current power supply
DC 24V
Compliance with directives:
EN 62471:2008 (photo-biological risk) depending on configuration
ISO 13732-1:2009 (Machinery Directive on operator thermal risk)
Lighting technology:
LED-SMD
High Power LED
FDC-LED
LED-PTH
Supporting technology:
aluminium
graphene polymer with controlled heat dissipation
Light transmission technology:
Compliance with directives:
EN 62471:2008 (photo biological risk)
ISO 13732-1:2009 (Machinery Directive on operator thermal risk)
ISO 15066:2016 ( collaborative robots)
Advantages:
narrow corner
distance up to 2 m
homogeneous bundle
no external bracket
Supporting technology:
fluoropolymer resin and glass fibre
Light transmission technology:
Compliance with directives:
EN 62471:2008 (photo biological risk)
ISO 13732-1:2009 (Machinery Directive on operator thermal risk)
Advantages:
more than 500 combinations
recognizable over 200 m
 monochromatic light
very high brightness
narrow corner
distance up to 2 m
homogeneous bundle
no external bracket
Lighting technology:
9 High Power LED
monochrome 460 nm
LED-SMD
High Power LED
FDC-LED
LED-PTH
Supporting technology:
aluminium
graphene polymer with controlled heat dissipation
aluminium
graphene polymer with controlled heat dissipation
fluoropolymer resin and glass fibre
Light transmission technology:
di-glycol allyl carbonate monomer focusing lenses
Power supply:
external controlled-current power supply
DC 24V
Compliance with directives:
EN 62471:2008 (photo-biological risk) depending on configuration
ISO 13732-1:2009 (Machinery Directive on operator thermal risk)
EN 62471:2008 (photo biological risk)
ISO 13732-1:2009 (Machinery Directive on operator thermal risk)
ISO 15066:2016 ( collaborative robots)
EN 62471:2008 (photo biological risk)
ISO 13732-1:2009 (Machinery Directive on operator thermal risk)